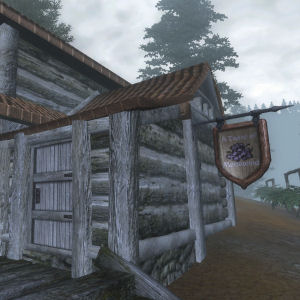 A Taste of Morrowind
Edit
Kratos is the proprieter of A Taste of Morrowind in Cape Town. Cape Town is visited during A Spymaster's Apprentice, however A Taste of Morrowind can be accessed at any time.
Kratos has 5,000 gold to barter with and sells Apparel, Apparatuses, Potions including the much sought after Akaviri Fire Draught and S'Wit, Ingredients and Miscellaneous items.
The Seadog
Edit
The Seadog is located in Cape Town along the wharf. Bard the Bowman the host. He has 200 gold to barter with selling Apparel, Potions, Ingredients and Books. Bard the Bowman is also a Journeyman trainer in Mercantile.
Ad blocker interference detected!
Wikia is a free-to-use site that makes money from advertising. We have a modified experience for viewers using ad blockers

Wikia is not accessible if you've made further modifications. Remove the custom ad blocker rule(s) and the page will load as expected.