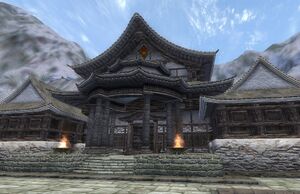 Cloud Ruler Temple remains as a stronghold for Blades; Call to Cloud Ruler begins the journey into discovering and playing Reclaiming Sancre Tor. Cloud Ruler is again visited during the main quest at the conclusion of Another Dimension as The Oracle will be residing here.
Cloud Ruler Shop opens its doors for business approximately 2 weeks after Trials by Blade and offers a unique selection of goods. The shop can be found in the Temple Armory and Jacen Lirrian ready to assist in repairs and purchases.
There are a number of familiar Blades in residence here; Achille, Arcturus, Baragon, Belisarius, Caroline, Jena, Cyrus, Ferrum, Pelagius, Fortis, Roliand and of course Captain Steffan. With others making appearances dependent upon the circumstances. Bruin Hrothgar will visit here as will The Oracle and Tiber her dog.
Ad blocker interference detected!
Wikia is a free-to-use site that makes money from advertising. We have a modified experience for viewers using ad blockers

Wikia is not accessible if you've made further modifications. Remove the custom ad blocker rule(s) and the page will load as expected.